We Love Helping Homeowners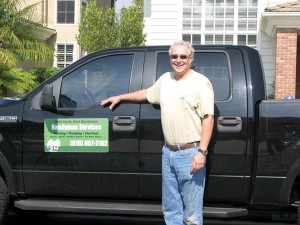 lf he looks familiar,  it's probably not just because he has one of those comfortable friendly faces. You've likely sat next to this sports-enthusiast grandpa at a football game, soccer match or baseball double header.
He's Greg Carter, local grandfather of six boys and a master­ fixer-upper as owner of North County Home Maintenance / Handyman Services.  Greg  or "Bro" as he was originally affectionately called by his son-in-law, and has now become his nickname – specializes in all aspects of home repair, including electrical, plumbing and carpentry. After a long career that took him from construction to contractor and iron work, Carter took a less physical tum as owner of a lively printing business. Although fruitful, it wasn't his passion.  instead of hanging it all up and retiring, he took his lifelong­ honed home handyman skills and a love of woodworking and built a new career that would allow him to fulfill his real passion all the while keeping enough time for him to do things like volunteer for the "chain gang" at his 14-year-old grandson`s football game or help with the TPHS Varsity Baseball field day.  Fishing or cooking with his wife Barbara at their local home.
"I completely know understand that money can be tight for many homeowners. Because of this people are repairing their homes, rather than getting into a bigger remodeling job. l love helping people. I love pets. kids and getting to know my clients. l am glad that I am able to do what I do – and make new friends along the way," Carter said.
Greg encourages maintenance that will help avoid the big-ticket repairs. This might mean just a basic 'tune-up like filter-changes, smoke and carbon monoxide detector  changes, keeping weather strips intact. Garage door calibration – things that most busy families neglect but can keep a house in good shape as well as keeping energy and other home repair bills down. His customers often joke with him that having his help means getting the "Honey Do" list completed perfectly without having to ask multiple times.
Greg finds that most of his business is small repairs, electrical, plumbing, hanging mirrors/pictures and routine maintenance but is capable of tackling bigger jobs too.
If you have any questions about our services or hiring North County Home Maintenance for your handyman repair job, please feel free to get in touch.