Fence & Gate Repair Carlsbad, Ca
New Fence Installation & Repairs in Carlsbad Is Our Specialty
Nothing is worse than a broken, damaged fence on your property. Not just because it's miserable to look at a fence that's rotting or falling down, but it can also be a security risk for your home and yard.  North County Home Maintenance has been repairing wooden fences and gates for Carlsbad homeowners for over 20 years.  We have the knowledge and tools to repair or replace just about any wood fence issues.   Whether you need a new fence installed, or want your broken fence fixed by professionals, we got you covered.
A fence is an integral part of your property's overall appearance. No homeowner can afford to have a fence that has fallen into disrepair. Dog owners have an even greater reason to keep fences in good repair. In addition to giving your dog the freedom it needs, a fence also keeps your family safe from other dogs in the neighborhood and from random wildlife. Dog digging at fences can cause significant damage to bars and boards, possibly making it easier for other animals or children to gain access to your yard.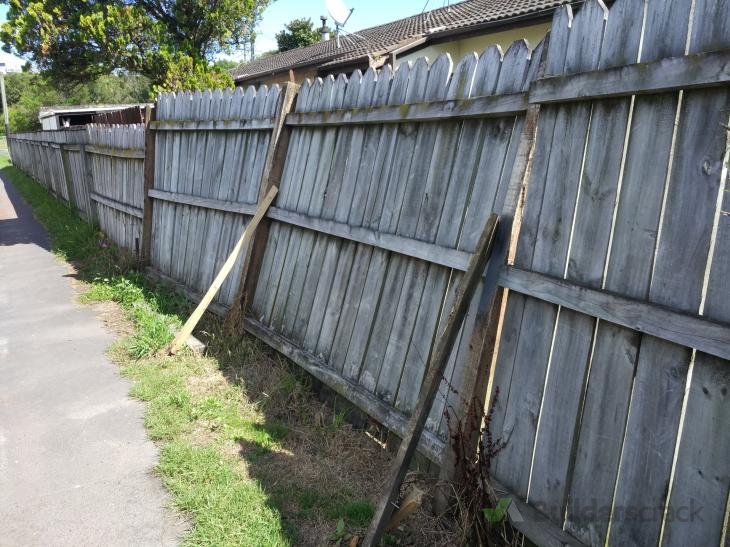 Top Reasons Your Fence May Need to Be Repaired or Replaced
Moisture
Unfortunately, wooden fences don't last forever.  No matter how high quality the materials, wood will fail over time.  Most of the fence repair jobs we work on in the Carlsbad area are due to the fence posts rotting out at the fence footing.  This will happen naturally even when using pressure treated wood because the point where the post and concrete meet generally allows moisture build up causing rot and eventual failure.  This process is accelerated if you have irrigation and yard sprinklers that are adding moisture to the fence post area due to improper sprinkler spray pattern.
Wind
We work on a lot of fences in Carlsbad that have been blown over by winter storms and breezy days.  Once the posts have begun to rot out due to moisture build up, it only takes a windy day to push the fence over into your neighbors yard, creating and eyesore and security risk.  In order for wind to blow a fence down, there needs to be multiple fence post failures all in the same area.  In some cases we can set new posts to replace to rotten ones, but many times this will require that entire section of fence to be completely replaced.
Fence Rot
While the fence posts are the most likely part of the fence structure to fail, we also find that fences over 10+ years of age will suffer from general dry rot and even termite damage.  This can happen to the fence boards as well as the supporting structure that is attached to the fence posts.  When this occurs, the entire fence will need to be rebuilt, including all posts, supports and boards. 
Accidents
Every once and a while we run into a fence repair job that was the result of an accident or negligence.  Usually this is caused by something hitting the fence and causing it to be damaged or fail.   This can include cars backing into fences, trees falling on a fence, damaging it beyond simple repair, or even dogs and animals digging at the base of the fence and posts or scratching at the fence boards.  Again, if the damage is minimal, repairs of individual fence boards is certainly an option, but in some cases, that entire section of the fence will need to be rebuilt from the ground up.
Our Methods For Wood Fence Repair
Damage Assessment
When we come out to inspect your fence project in Carlsbad, the first thing we do is determine exactly the cause of the fence damage or failure.  This helps us figure out if the section of fence can be repaired with new posts and boards or if we will need to remove and rebuild the entire section of fencing.  We know that cost is always a concern for homeowners, so we try to come up with the most cost effective way to get your fence back in good shape without doing unnecessary work that will cost the homeowner more money.  We are honest and straightforward in our assessment and will never recommend a repair plan that isn't absolutely needed.
Materials
We want your fence to last as long as possible after we repair or replace it, so we use the best materials to make sure this happens.  We use pressure treated 4×4 posts and 2×4's for the structure of your fence.  Most homes use cedar boards for the fence itself, but if you have another type of wood in mind we can certainly give you a price for whatever wood species you are interested in. 
We will do our absolute best to match the new or repaired fence sections to the current style of your fence.  This includes adding lattice, top caps and other details that are on your current fence.
Installation
Most fence repair jobs can be completed in a single day.  If you have a large amount of fencing that needs repair or total replacement, this can take us a couple days to complete depending on the length and total number of new posts we have to dig holes for and set in concrete.  In some cases we may have to leave a section of your fence open overnight, which would require you to keep any pets inside until we can complete the job the next day.  We try to be very conscientious about this as we know it can be a burden to homeowners with dogs and other animals.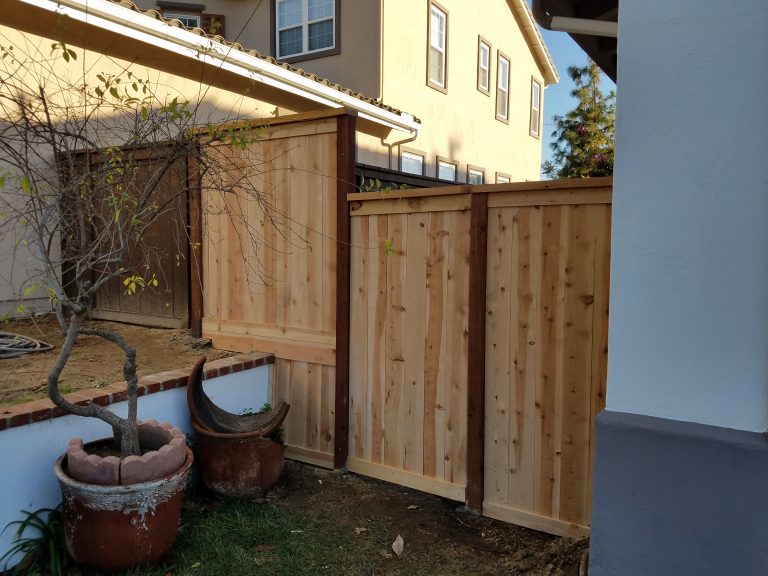 Gate Repair & Installation
Wooden entry gates that get a high amount of traffic tend to break down and come out of alignment very easily.  In some cases the supporting posts rot at the base which will make the gate completely non-functional. 
We can remove and rebuild your gate from scratch when necessary or simply make adjustments to make your gate work properly.  When we rebuild an entire gate we use quality lumber and include new gate hardware as part of the estimate.  If you require a custom gate style above and beyond a standard entry gate, we can discuss those details and options with you.
Proudly Serving Carlsbad Residents for Over 20 Years
If you have any questions about our services or hiring North County Home Maintenance for your handyman repair job, please feel free to get in touch.