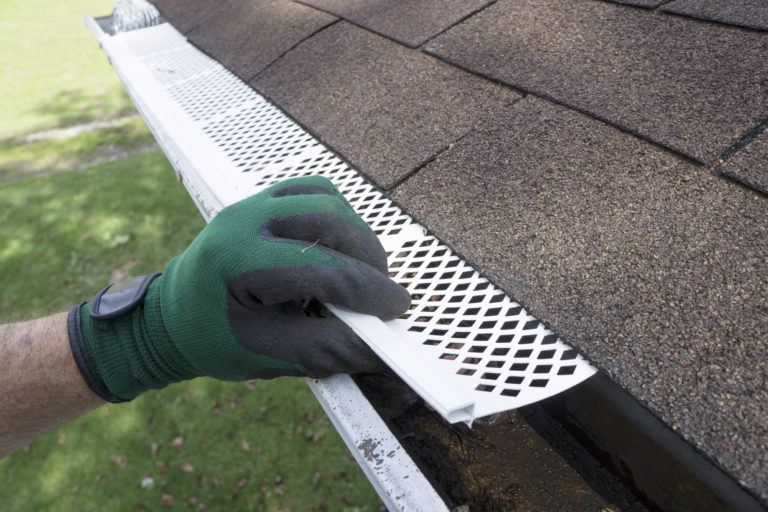 Even though we live in sunny, Southern California and we don't get as much rain as the rest of the country, it's extremely important to keep your gutters free of debris during the rainy months. Rain gutters that are clogged will not perform properly and you could potentially be doing damage to your home at the same time.
When rain gutters back up, rainwater can overflow the gutters and pour down near the foundation of your home. Pooling water in this location can get into the concrete, stucco or siding of your home. Over time, this will begin to soften the stucco or wood on the exterior of your home, which will lead to costly repairs.
Making sure your rain gutter system is functioning efficiently will allow the rainwater to flow away from your home through the downspouts.
Cleaning your gutters isn't difficult, however you will want to be careful since you will need to be on a ladder or on your roof. One trick that can help get the large debris out of your gutters is to use your leaf blower. This will get the majority of leaves and large items out of the gutters. You may manually need to pull junk out of the downspouts to make sure they're not blocking water.
If it's been years since you last cleaned your gutters, you may have a thick layer of muck that is comprised of dirt, leaves and shingle material. To remove this you will either need a paint scraper or a pressure washer / garden hose. This will be a messy job, so make sure you cover anything on the ground you don't want covered in water and debris.
If this sounds like a job you'd rather leave to the professionals, we don't blame you at all. We can handle rain gutter cleaning in Oceanside, Carlsbad, Encinitas and surrounding areas. Give us a call or click the link to schedule an appointment.